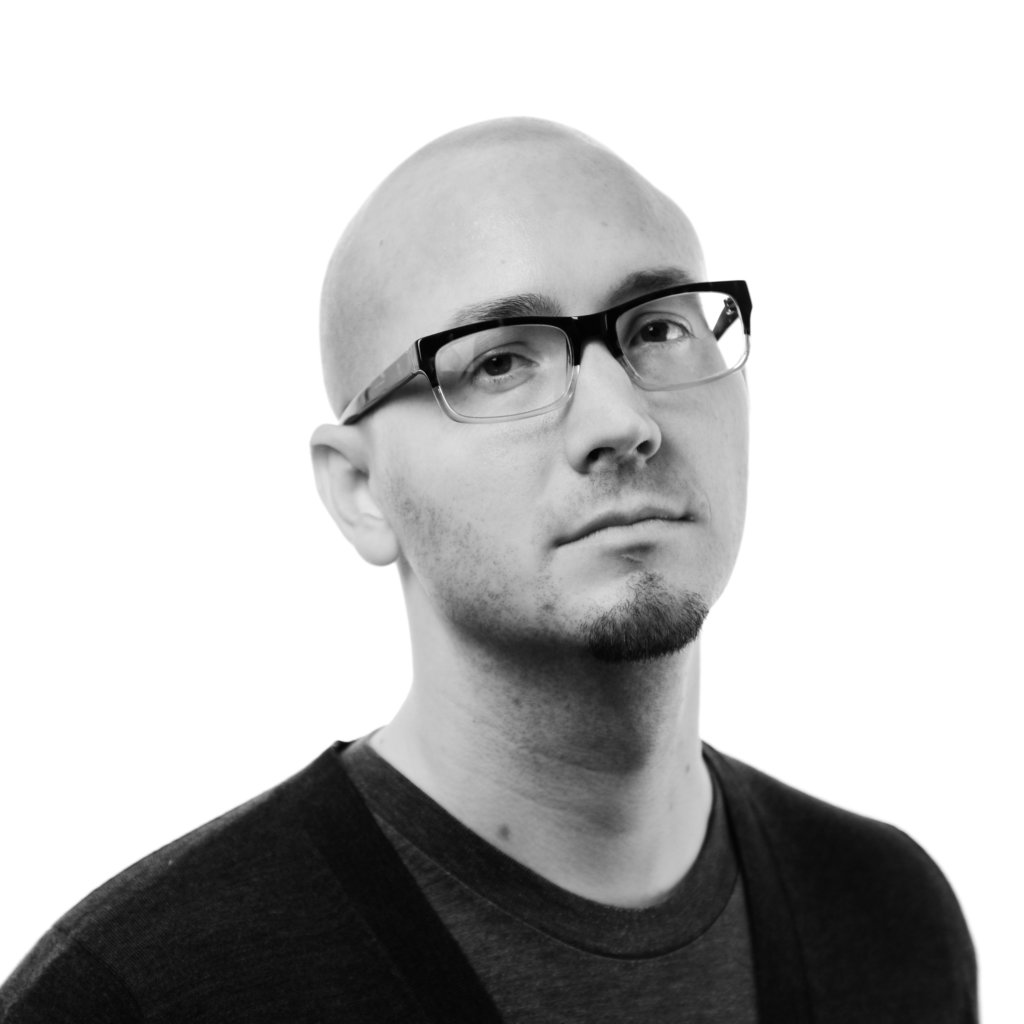 Brief Bio (<70 words)
Ryan Gattis (ryangattis.com) is the author of Safe, Kung Fu High School, The System, and All Involved, which won the American Library Association's Alex Award and the Lire Award for Noir of the Year (France). He lives and writes in South Los Angeles, where he is a member of art collective UGLARworks, a founding board member of arts non-profit Heritage Future, and a PEN America Prison Writing Mentor.
Approved Headshots for Media Use
Full-length Bio (with links)
Ryan Gattis (ryangattis.com) is an author & educator. His novels Safe and All Involved are both set in and around South Los Angeles and rooted in meticulous research and background with former Latino gang members in South Central Los Angeles. In 2015, he discussed the beginning of this process in a TEDx Talk. He is also the author of Kung Fu High School, first published in 2004/5, but re-released in the United Kingdom ('16) and United States ('17). The System, his latest novel, was published in December 2020. [To read more about Ryan's journey to write The System, see: Los Angeles Times Profile, 2 Dec 20]
In 2016, All Involved won the American Library Association's Alex Award & the Lire Award for Noir of the Year in France. Safe won the inaugural McIntyre's Beltie Award for crime fiction (USA, 2018).
Widely regarded for their deeply researched authenticity, his works of fiction set in Los Angeles have been translated into a dozen languages and are published by Picador (UK & World English), Fayard & Livre de Poche (France), Rowohlt (Germany), Guanda (Italy), Like (Finland), Planeta (Spain, Mexico, Latin & South America), Host (Czechoslovakia), Fumax (Hungary), Czarna Owca (Poland), and more.
Having taught Creative Writing across multiple genres for 9.5 years at Chapman University, he created 5 Essentials for Immersive Storytelling, which focuses on creating effective narrative in any media format, and pioneered a course called Writing for Video Games. You can view free writing & course materials here.
He lives and writes in Los Angeles, where he is a member of the art collective UGLARworks, a founding board member of literary arts non-profit Heritage Future, and a Prison Writing Mentor for PEN America.
For more on this in Ryan's own words, read My Story below.
Last Updated: December 2020
Approved Headshots for Media Use
My Story: "An Outsider."
In Ryan's own words:
"I was born on Scott Air Base in Illinois, and raised in Colorado Springs, Colorado. I didn't always want to be a writer.
For more on how that changed, read My Nose below.
I certainly wouldn't write fiction how I do without having been an active listener in a lot of different places. An outsider. I've lived in California, Australia, England, as well as having had two home-stays in Japan—one with a CEO's family, and one with a cabdriver's. I currently live in South Los Angeles, the greatest & most misunderstood city on earth.
I have a B.F.A. in Creative Writing ('01) from Chapman University, and an M.A. in Creative Writing: Prose ('02) at the University of East Anglia in Norwich, England, where I studied under the supervision of Andrew Motion, then Poet Laureate.
My first novel, Roo Kickkick & the Big Bad Blimp, was published in the UK in 2004. Kung Fu High School was published in both the US and UK in 2005; it was a Barnes & Noble Discover Selection, and its film rights were sold to The Weinstein Company. A film adaptation was ultimately never made.
I taught Creative Writing for 9.5 years at Chapman University. While there, I created a professional course entitled "Writing for Video Games," which saw its students move on to full-time jobs at TellTale Games (RIP), Jumpstart Games (for Dreamworks' IP), & Activision/Blizzard. I've guest lectured on my 5 Essentials of Immersive Storytelling for the Masters programme at Vancouver's Centre for Digital Media, using all-purpose elements I designed for all my courses.
For more on this, see My Teaching.
What ultimately changed my life and the course of my writing career was becoming a member of UGLARworks, an L.A. art collective that does everything from murals to museum shows. We paint murals as a Pre-Approved Mural Artist for the City of Los Angeles. Most recently: we have embarked on a mural project in Lynwood. We've also put on a show at United Talent Agency in Beverly Hills, taken over the PanMacmillan lobby in London, & done a one-night-only art show in London for All Involved, as well as creating a thematically linked mural in Paris for the book. (Examples of these can be found on the Art page of this website.)
For more on how I came to join them, see My UGLARworks.
It was a long road from my early books to writing All Involved, & I discuss it in my TEDx Talk here.
Since writing it, I've been fortunate to travel the world in support of my books, appearing at the International Literature Festival Dublin (Ireland), Edinburgh International Book Festival (2015 & 2017), Hay Festival Querétaro (México), Hay Festival Arequipa (Perú), & many others. I've also given talks at Los Padrinos Juvenile Hall in L.A. County, & Greenock Prison in Scotland.
I am a founding board member of Heritage Future: a non-profit cultural center in Orange, California."
Last Updated: August 2020
My Nose: "It was an elbow that did it."
In Ryan's own words:
"Our branch of the Gattis family has always been an Air Force family. My father was a Captain, and my grandfather was a Colonel. In 1978, I was born on Illinois's Scott Air Force Base. Before my first birthday, we moved to a house on a hill in Colorado Springs, Colorado—one that overlooked the Air Force Academy—where my father proclaimed to my older brother and me: That's where you'll go.
I might have, too, if an incident in high school hadn't derailed me. By my junior year, I was at the top of my class academically, playing varsity soccer, and doing all the extracurricular activities necessary to apply to the Academy when I walked in late to my student council class & my whole life changed.
It was an elbow that did it. A football player who had dropped acid earlier in the day wanted to play-fight with me, and even though I told him no, I was stupidly turning away as he swung.
I shouldn't have.
The blow ripped my nose out of my face, depositing it on my left cheek. It didn't break my nasal bone, though. The force simply tore all the cartilage out. You'd be amazed how much unseen cartilage you have, hidden high in your skull.
Afterward, I needed two facial reconstructive surgeries: what's called a closed reduction (in the Swedish doctor's shared office near Colorado College, before the anesthesia had taken effect) & an open reduction (in the hospital, where they opened the skin on my face, pulled it back, and cut my nose into a series of horizontal pieces before stitching them back together & inserting it back into the nasal cavity).
Depression set in soon after I was told I had nerve damage & might never smell or taste again. With gauze-packed sinuses, I spent a lot of time reading during my recovery, and in so doing, I realized I was not alone. In fiction and in life, bad things happen all the time.
When I did finally manage to pick myself up, I found entirely new things interested me. I was still 17—a teenager in every self-involved sense—but I now listened to people harder than I ever had before, I paid more attention, and a strange thing happened during this process: my empathy grew by leaps & bounds. My curiosity did too. And as I slowly recovered my ability to smell and taste over the rest of that year & into the next, I found being a soldier no longer interested me.
I wanted to be a storyteller instead."
My Teaching: "Driven by realism."
In Ryan's own words:
"I taught for 9.5 years (19 semesters) as an adjunct Creative Writing professor at Chapman University in Orange, California.
My courses included: Introduction to Literature (ENG 104), Introduction to Creative Writing (ENG 204), Advanced Creative Writing (ENG 304), Writing the Short Story (ENG 312), Writing the Novel (ENG 314), Writing for Video Games (ENG 328), Oral Storytelling (HON 341; Honors College), and Advanced Fiction Workshop (ENG 406).
Three years into my time at Chapman, I was invited to work closely with the head of the Creative Writing program in order to overhaul the core courses required for the B.F.A. The goal was to transition the program's offerings away from vague designations like "Introduction" and "Advanced" into a far more specific, craft-based approach that concentrated on various narrative formats, e.g. short stories and the novel.
By the time I left, I was the only professor—as an adjunct, no less—to have developed syllabi for, and taught, half of these revamped core courses.
I did my B.F.A. in Creative Writing at Chapman. Returning to teach there after completing my Creative Writing: Prose Masters at the University of East Anglia was like coming home, and yet, I had a sense of urgency when I did it. For one, I took the job at 26 years old, not far removed myself from the path my students were taking.
What's more, as an overseas masters student, I had not been adequately prepared for the rigors of my program—which, at the time, was inarguably one of the best in the world—and it was difficult for me to make the initial step up. As such, my primary goal when teaching was to turn my students into detail-oriented professionals first, and solid practitioners of the craft second.
My approach was driven by realism: the odds are against every writing student carving out a career in the discipline; this is why I taught them to be professionals first, so that they might be successful anywhere, in any job.
Of my former students, a number went on to publish novels, one became a Writer and Creative Director at the legendary (but now defunct) Telltale Games and she still works in the industry as a Narrative Designer, one founded his own company (Peeka VR) focused on adapting children's books into virtual reality, another is now VP of Editorial & Creative Strategy at Boom! Studios after beginning as an intern, while still more have gone on to careers in law, communications, journalism, social media management, songwriting, and teaching. I am tremendously proud of all of them."
Access Free Writing & Teaching Materials
My UGLARworks: "Saved my life."
In Ryan's own words:
"When I first met Espi in 2009, I was at my lowest point professionally. I hadn't published anything since Kung Fu High School and the money from its film sale was running out. Teaching colleagues told me I was done being a novelist. I'd had my shot. I'd failed. I needed to accept my lot. Perhaps teach at a community college.
And I might have, if a mutual friend hadn't introduced me to Espi & I saw the spark of a like mind. Within minutes, we were talking about traveling to Japan, where to get the best burritos in Greater Los Angeles, & the surprising strength of Korean cinema. (Not to say we told you so, but this was 11 years before Parasite, people.)
Soon after, Espi introduced me to the rest of the crew—Evan, Chris, & Steve—and set me on a new path. Within a month, they asked me to be a part of the crew. I said yes immediately, even though none of us had any idea how introducing a writer into an art crew would work, or if it even would. It was an experiment, plain & simple. I suppose it still is, in many ways.
Before I could become a full member, though, I had to do an apprenticeship. It was a humbling thing scouting locations & carrying paint, or sitting around in the L.A. summer sun documenting projects while others painted. Mural work is a laborious process. Scale takes time. My job was to be an extra brain, an extra pair of eyes, and an extra pair of hands. I still am. Proudly.
I painted on my first UGLARworks piece some seven months after we had all agreed I'd join. We were working on the elephant & the fly piece for the Public Works Project when Chris handed me a brush and told me to do the logo. His outlines were already there for me—all I had to do was block it in with black. And I did.
Some weeks later, I was almost hit by a car. Well, I was. Just not grievously. On the block of Washington Boulevard where we were painting, it has Blue Line train tracks going down its middle like a spine. I was standing just off of these late one night, steadying a projector with my left hand & holding a flashlight in my right. I used the light to indicate to drivers that they needed to slow down & avoid me. This worked for every car but one.
A driver, likely drunk, saw my light & sped toward it before swerving. I couldn't get out of the way fast enough. Lurching to my right, I made myself small just as Steve Martinez—who had been painting, but just happened to be checking the projector at that exact moment—snatched my collar & hauled me backward. The car's side mirror clipped my solar plexus, taking my wind away with it, but nothing else.
After I'd recovered, all Steve said was: I got you!
That's UGLAR, right there. I had a bruise for a month after that, but I was still here. Since then, people have often asked, What does UGLAR mean to you?
I say they saved my life—not just literally, but artistically. Without them, I would never have glimpsed the hidden spaces of Los Angeles—the way its river, its streets, its textures, & its people combine to form something unique & magical.
They are my key in the lock of the city."
See more of Ryan's work with UGLAR
My Tattoo: "No room for doubt."
In Ryan's own words:
"Tattoo is the most honest art form on earth. Within it, there is no room for doubt. It gets done, or it doesn't. There is no in between. When people see tattoos, they know instantly, viscerally, that the art was earned through pain & patience. They know it has been endured. In November 2019, my tattoo was finally finished. It is a half-suit with a monowari robe opening; it covers my entire back—to the middle of my thighs—and has two 3/4 sleeves, and a front piece. It took hundreds of hours to complete, and more to recover from. I earned every millimeter.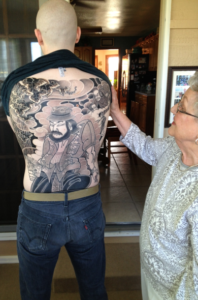 We first began my back piece when I was in the process of writing days 4, 5, & 6 of All Involved. During that time, I could sit for no more than 25 minutes. After that I had to stand, walk, or lie flat on my stomach.It took almost two months of 2 to 3 sessions per week, and I would often not be fully healed before we started back in again, but that's the process, and that's life, too. If something is worth accomplishing, one must keep going.
My suit is the first within "The 108 Heroes of Los Angeles" Project by Chris Horishiki Brand, a series of back pieces, wood carvings, & paintings adapting the bandit stories from the classic Chinese novel, Shuihu Zhuan (All Men Are Brothers/The Water Margin), written in 1592 by Shi Naian. In translation, this book also had a massive impact on Japanese culture. As the Suikoden, these adapted stories played a pivotal role in the evolution of the Japanese tattoo tradition, where it found popularity among the working class during the Edo Period (1603-1868). Chris's pieces fuse elements of Japanese tattoo tradition with Southern California, Chicano-style single needle black & grey tattooing, which he learned at Good Time Charlie's Tattooland, an institution of the genre since 1975. In this way, he takes these timeless stories and transplants them in late 1970s/early 1980s Los Angeles. Each piece deeply reflects the diverse, cross-cultural spirit of Los Angeles and America as a whole.
In my back piece, the scholar-character Clever (no relation to the character of the same name in All Involved) stands on his patio late at night, reading an original copy of John Fante's Ask the Dust & having a smoke, when a scuffle breaks out on the street behind him. It is a moment that will change his life by introducing him to new brothers-in-arms, but he is a patient man, and for now, he watches to see which man might win."
Artist Contact: To inquire about Chris Horishiki Brand's availability, e-mail him here. He is also on Instagram.
Final Note: Kip Fulbeck's photograph of Ryan Gattis's back piece featured in the "Perseverance: Japanese Tattoo Tradition in a Modern World" exhibition for the Japanese American National Museum in 2014. It is currently traveling to other institutions around the world, having already appeared at: the Virginia Museum of Fine Arts, the Morikami Museum & Japanese Gardens, The Japan Foundation (Sydney, AU), the Newcastle Museum (AU), the Canterbury Museum (NZ), the Immigration Museum (Melbourne, AU), and the Anchorage Museum.
My Bookshop: Online + Local (US Only)
In Ryan's own words:
"I'm often asked to recommend my favorite books, or discuss the books I used to supplement my face-to-face research, and Bookshop.org gives me an opportunity to put them all in one place, list them by topic (e.g. The System: Research Reading List, or Los Angeles: Noir), get a small commission, and help local booksellers at the same time. It was too good to pass up."